Dual Credit Application Guide
Gateway Online Application Guide for Dual Credit
This guide will assist you in submitting your online application to Gateway Community & Technical College for participation in dual credit classes.
The first step in the online application process is to navigate to the Gateway homepage and click on the Apply link.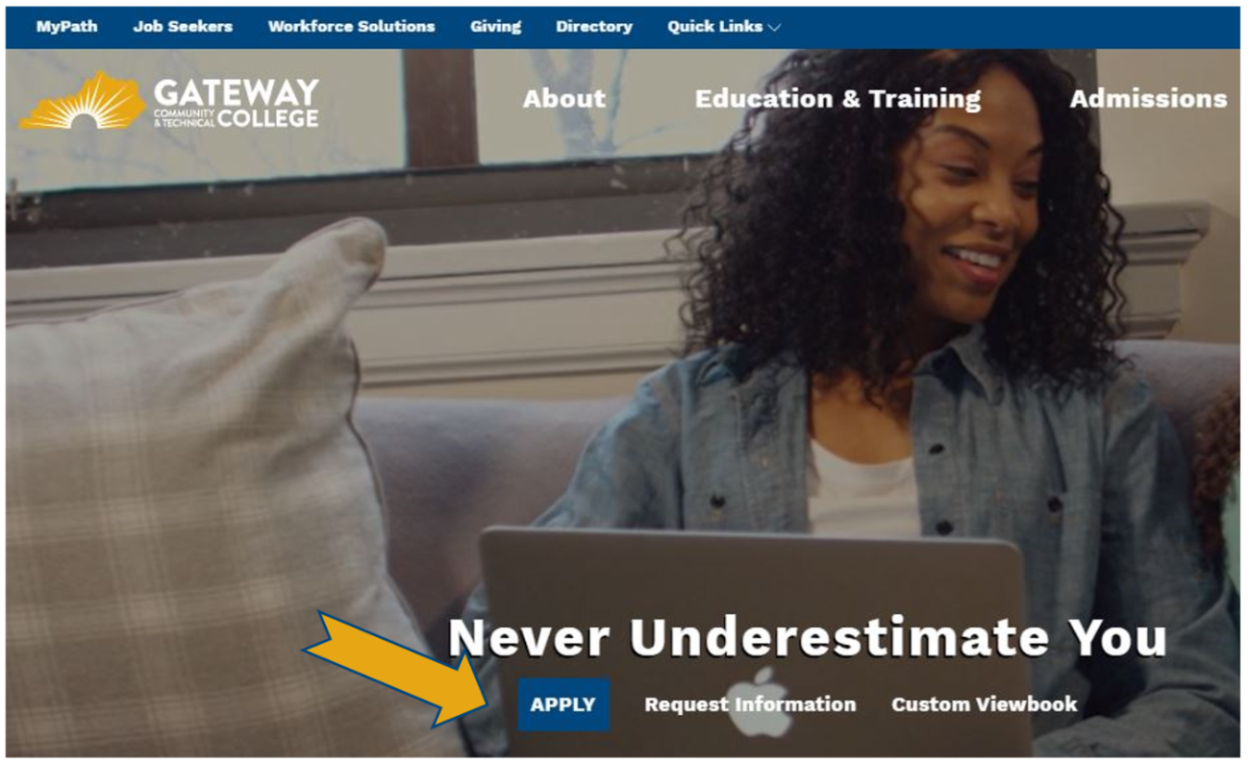 You can also click on the Start Your Application button found on the bar that appears when you begin to scroll on any webpage.

Next, you will create an admissions account that will allow you to start, stop, and save the application before submitting.
If you have already started an application and need to retrieve it, click Need to Finish a Saved Application? and enter the email address and password you previously used to create your admissions application account.
If you are starting a new application, complete the reCAPTCHA verification, then click the Start Application button. The following screen will appear:

Enter a personal email address that you can readily access. You will need to retrieve and enter the verification code that will be sent to this email address prior to starting the application.
Enter the verification code sent to your email address, then click Confirm.
The personal email address you provide is extremely important. It will be used to verify your identity, access your application, and setup and/or reset your password. Do not use an email account that you are unable to access, an email account that belongs to another person or a KCTCS.edu address.
Once you enter your email address and click Send Verification Code, you will receive the following notice:

You will begin by selecting Gateway Community & Technical College as your home college and Gateway Comm. & Tech. College should automatically populate as your campus in the Which college and campus do you want to attend? section.

Next, enter your information in the Personal Information and Home or Present Address sections.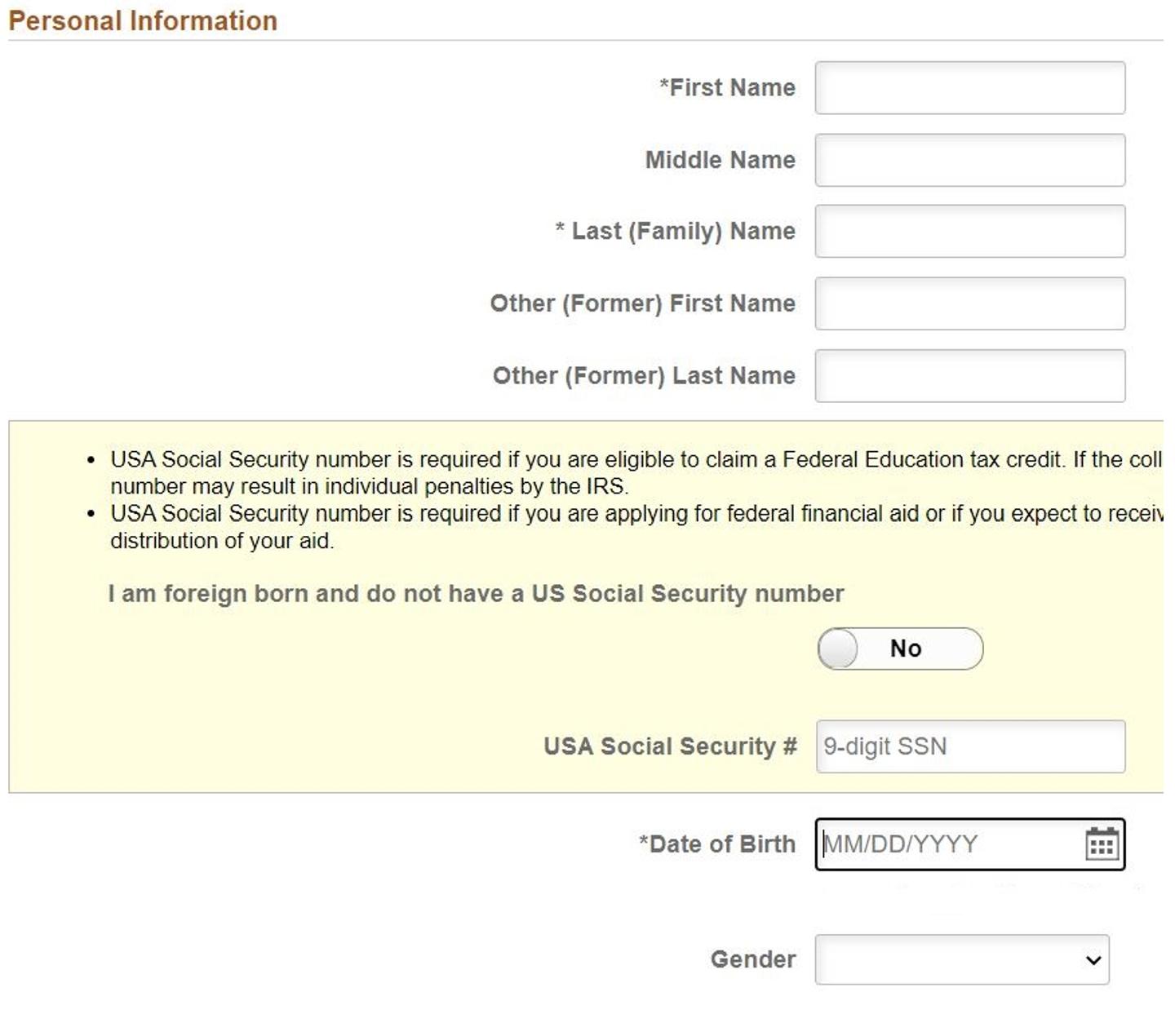 Your first name, last name, date of birth, and full address are required.
If you do not know your Social Security Number, DO NOT GUESS! Leave the USA Social Security # field blank if you do not know your number.
Before continuing with the application, you must create an account. This account will allow you to save your application before submitting and come back to it later if needed.
Note: this account is used only to access your admissions application and is separate from your Student Self-Service, or User Account.

The email address you entered to receive the verification code will be displayed here.
You must create a strong password that meets the specified guidelines of the Create Account area.
A Hint Question is required to reset your password to your admissions application.
After completing these fields, click Create Account. It may take a few seconds before the account is created. You will receive a confirmation email from KCTCS Admissions.
If you did not enter your SSN, you will receive the pop-up message shown below when first clicking Create Account. Click OK to close the message. The cursor will be placed in the SSN field giving you a second chance to enter your number. Again, if you do not know it, leave it blank. Click Create Account again to proceed.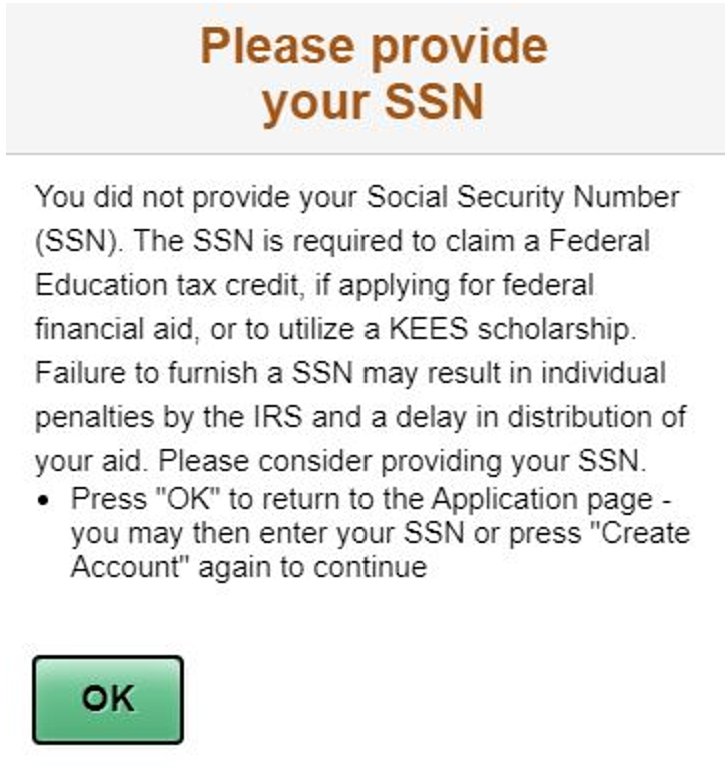 On the next page, you are asked to confirm the personal information you entered previously. You can modify the information if needed, then select Next Step to continue.
In the Additional Information section, you can enter your contact phone number, military status (if applicable), and emergency contact information. Click Next Step to continue.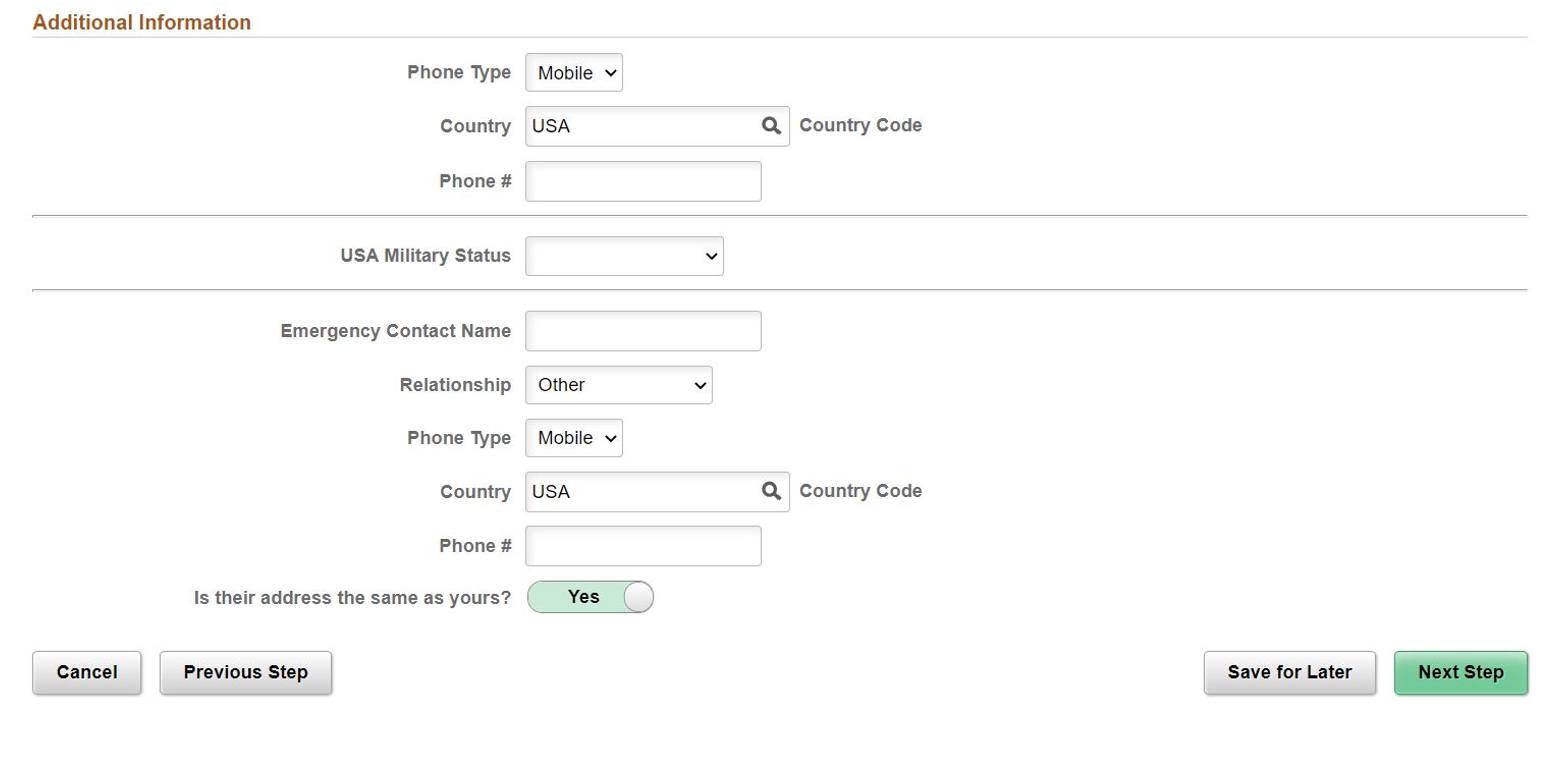 Next, you will enter your Citizenship information.
If you are a U.S. Citizen, select Yes, then click Next Step to continue.
If you are not a U.S. Citizen, select No and answer the subsequent questions as they appear, then click Next Step to continue.
The next step is the Ethnicity Questions section, which are optional. Once you are finished, click the Next Step button to continue.
It is very important that for the remainder of the online application, you answer the questions as instructed by your high school counselor or by your Gateway advisor to avoid causing any delay with your admission application for dual credit.
Select your starting semester in the Tell us about yourself section as instructed by your high school counselor or Gateway advisor.

Next, choose Yes to indicate that you are currently enrolled in high school or home school. Then you will enter an expected graduation date. Use June for the month along with the year you are expected to graduate from your high school or home school.

If you notice the Next Step button is greyed out and not highlighted green, you may have missed answering a required question to continue to the next section. Once you complete the required questions, the button will turn green and you will be able to click to continue.

In the next section you will enter your high school information.
Enter the two-letter abbreviation for your high school's state.
Next, begin typing your high school's name in the text box. A predictive search box will appear, narrowing your choices. It is best to enter just the first part of your high school name to begin searching. For example, if you attend Boone County High School, you can begin typing "Boo" into the search field. Once you see your high school, click on the name, then click the Add This School button.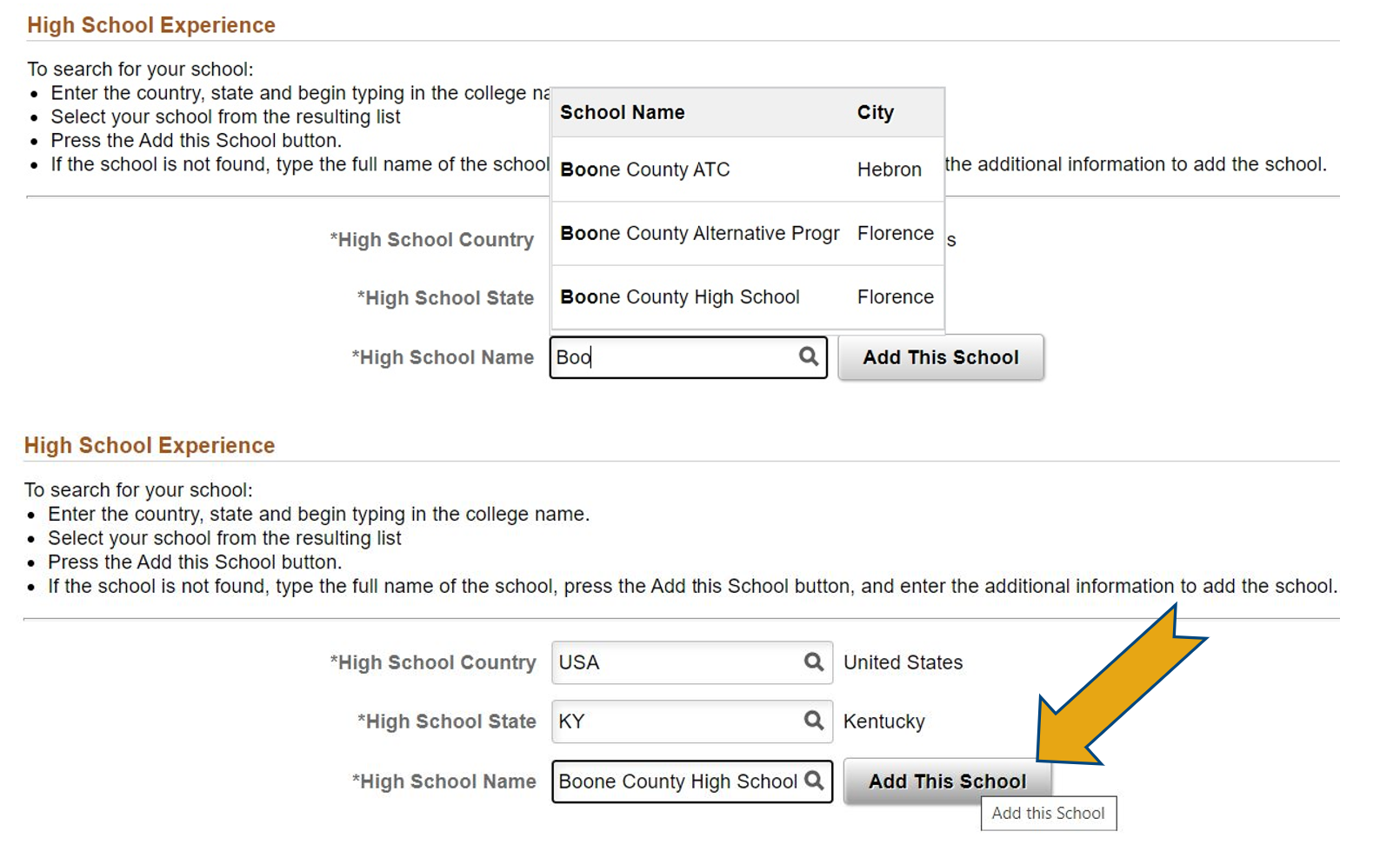 Once you click Add This School, your high school's information will appear below the textboxes and the Next Step button will turn green. Click Next Step to continue.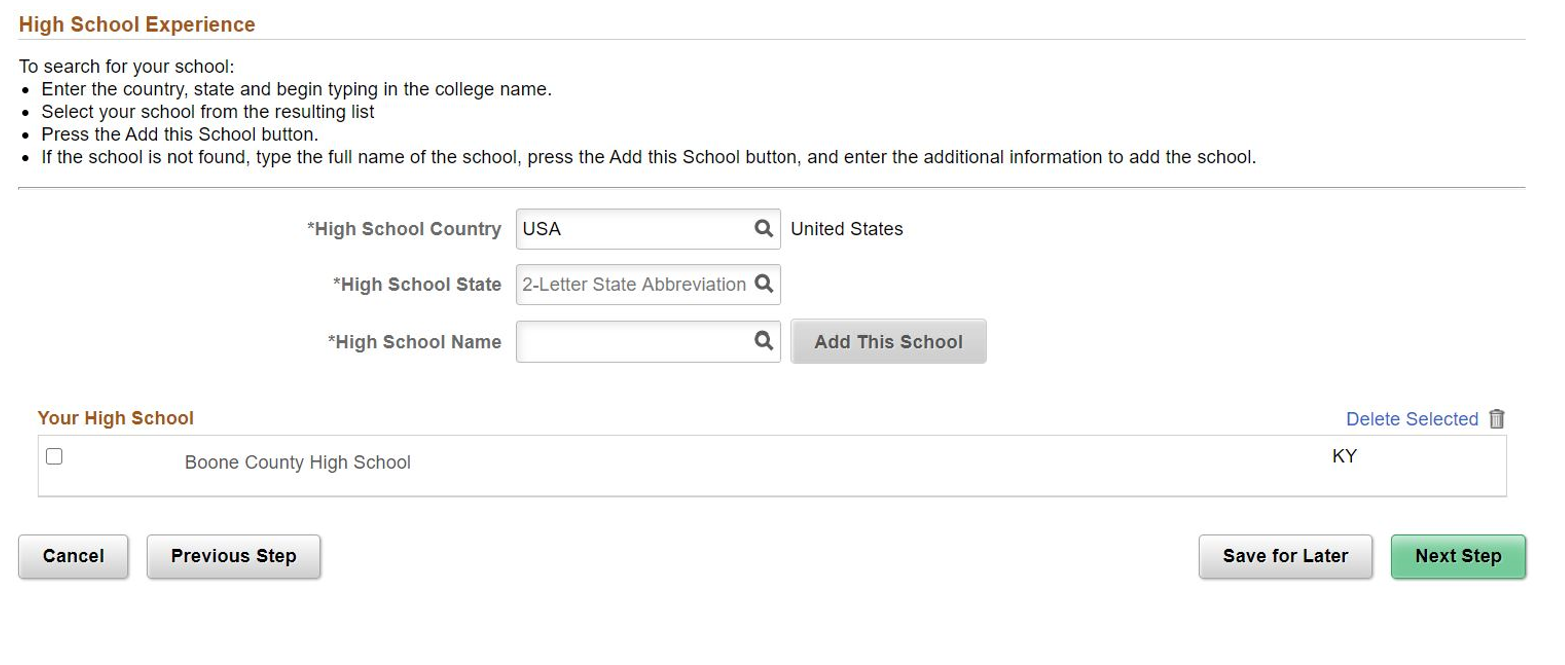 If you are a home school student, begin typing "Home" in the search box, then select "Home School" as your high school.
Next, you will be asked questions regarding residency. The most common responses to these questions are shown below, however if you have any concerns on how to answer these questions, ask your counselor or Gateway advisor.

The last step is to Confirm Your Information. All information that you have entered will display on the confirmation page. Review all of your information for accuracy.
To make any changes, you can use the Previous Step button or click on the specific section you need to edit on the left side of your screen. When you are finished and ready to submit your application, click Confirm & Submit.

After submitting your application, a Congratulations screen will appear. The page will display the following information:
Your 9-digit KCTCS ID Number – This is also referred to as your Gateway Student ID number. If this number does not show on your Congratulations screen, let both your counselor and Gateway advisor know as soon as possible.
Your Application Reference Number – This number is used to reference your online application.
You will also receive an automated email that contains the above information along with a link to create your student user account profile.
If you receive a message indicating there was a problem with your application, let both your counselor and Gateway advisor know as soon as possible.
Now that your application has been submitted, be sure to review and complete the online Dual Credit Enrollment Agreement form and Orientation Information. These both can be found on Gateway's Dual Credit webpage here.
The Dual Credit Enrollment Agreement form along with your current high school transcript, placement exam scores (ACT, SAT, KYOTE, edReady), and any Advanced Placement Exam scores are the last documents needed to complete the admissions process for dual credit with Gateway.
If you have questions at any time, please contact either your high school counselor or Gateway advisor.
Thank you and welcome to Gateway!