Nursing Program Application Process FAQ
Here are some answers to frequently asked questions about the nursing program application process including:
Application Schedule & Process
Nursing Program Ready to Apply Dates
NLN RN Pre-admission Exam (PAX)
Pre-requisite Courses
Background Checks and Drug Screens
NSG 101 Schedule for Those Accepted
What do I need to know?
You will pick up the application at a Ready-to-Apply conference beginning in March.
You can only apply if you meet all of the requirements, including the PAX exam, by Friday, May 14, 2021 when applications are due.
You will gather your materials and submit them to the pre-nursing advisor, where you will complete a checklist and finalize your application.
Information on the mandatory PAX test, including how to register, what is on it, study resources, and recommended scores are listed below.
Application Schedule and Process
All pre-requisite classes completed before application deadline with a grade a C or better.
Possess active KY CNA and CPR-BLS certifications.
Completed PAX exam.
Submission of required application documentation.
Applicants are chosen by a Selective Admission process.
Prospective applicants will receive their materials after attending a mandatory Ready-to-Apply conference. These hour-long sessions will begin in March and there will be several of them throughout the month and offered at different days and times to allow for students working different schedules to attend.
Only if student attended a Ready to Apply Conference.
Yes. If you are applying for a Fall 2021 start, the last day to take the PAX is May 13, 2021.
NOTE: For more information about the PAX, review the NLN RN PRE-ADMISSION EXAM (PAX) section of this document.
The decision letters will be sent by mid to late May. NOTE: Application schedule is subject to change.
Nursing Ready-to-Apply Conferences
These sessions will detail the admissions process and prepare students for success in the Nursing program. The conference is held by current Nursing faculty and advisors and is meant to ensure that applicants understand every aspect of the admissions process and have a better understanding of what to expect in the program should they be admitted. Applications will only be available at the end of the conference.
Dates begin in March and will continue into early May.
No, reservations are not necessary.
Please make all possible effort to attend a conference. In the event that you absolutely cannot attend, please e-mail Bethany Foxx (
Bethany.foxx@kctcs.edu
) Final decisions to be made by Michele Simms – Director
Students must attend a full session in order to receive credit for being there. If the student is late or leaves early, they must attend another session to obtain all of the content.
Yes, you still have to attend a session.
NLN RN Pre-Admission Exam (PAX)
This pre-admission exam tests pre-nursing students on high school-level knowledge in the following areas: Verbal, Math, and Science.
While there is no required minimum score, to be a competitive applicant, we suggest an RN percentile score of 50 or higher.
Schedule your NLN RN PAX (National League for Nursing RN Pre-Admission Exam) by:
Clicking this link: https://www2.registerblast.com/gctc/Exam/List

In the "Choose a group" dropdown, select "NLN RN PAX"

In the "Choose an exam" dropdown, select "NLN RN PAX ($60.00)"
The rest of the requirements are self-explanatory. You'll select your test date, time, enter personal info, pay, etc.
Students have at least two resources to help them brush up on material covered in the PAX.
Students are welcome to purchase or locate resources to assist them with studying for the PAX. One that has been helpful for students has been found on Amazon.com.
That same book is also available for check out at the Kenton County Public Library.
Yes, students are allowed to retake the PAX as many times as they would like, but there must be at least two (2) weeks in between attempts.
Contact us at
gw-prenursing@kctcs.edu
; financial assistance may be available. Please seek this option if you truly need it – this is a limited fund.
Students take the PAX at the Boone Campus Assessment Center.
500 Technology Way, Florence, KY 41042
Pre-testing is very common with nursing programs. Since admittance into the program is a selective process, the Selective Admission Committee needs all the relevant academic data for an applicant that they can get in order to assess strengths and weaknesses. Our data shows that students who score low on the PAX have a lower success rate in the Nursing Program. Students that score an RN Percentile Rank of 50 or higher on the PAX have better odds of being able to keep up with nursing content. Think of the data we collect as your academic resume. The better your grades, GPA, and PAX scores are, and the more co-requisite classes you have completed, the more qualified you are for the role of the nursing student.
If you have taken the NLN RN PAX with Gateway since May 2020, you are welcome to reuse your scores if you would like. It is recommended that students strive to achieve at least a RN Percentile Rank of 50.
Yes, all applicants are reviewed thoroughly by the Selective Admission Committee. A score lower than 50% does not disqualify an applicant.
No. The test must be taken at Gateway for your scores to be used.
Login into the NLN account you created in order to take the PAX and you can see your scores there. Scores sometimes take four hours to appear after completion of the test.
The image below is a screenshot example of what you should be looking for. The RN Percentile Rank is what earns a student points. 50 or higher receives points.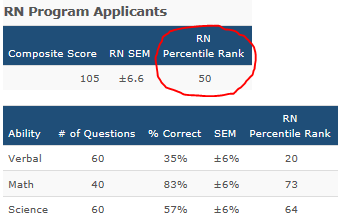 The RN Percentile Rank shows how you stack up against all the pre-nursing students in the nation that have ever taken the NLN PAX.
< 50 = Below Average
50 = Average
> 50 = Above Average
We have online access to everyone's scores and we take the best of your attempts. You do not need to give us the information.
PRE-REQUISITE COURSES
BIO-137 (Anatomy and Physiology I, completed in the last 5 years), PSY-110 (General Psychology), MAT-150, MAT-151, OR STA-210/220 (College Algebra or Statistics). Having an active status on the KY Nurse Aide registry (NAA-100 class here at Gateway) and an active CPR Basic Life Support for the Healthcare Provider (CPR-100 class here at Gateway) certification is also required.
Yes! As long as all of your pre-requisites are completed by May 9, you are good to go.
Here is a chart for future applications periods that shows when all pre-requisite courses must be complete for application eligibility. NOTE: Application schedules and deadlines are subject to change.
Nursing Application Periods

| NSG 101 Start | Pre-requisite Completion Deadline |
| --- | --- |
| Fall 2021 | May 2021 |
| Spring 2022 | October 2021 |
| Fall 2022 | May 2022 |
| Spring 2023 | October 2022 |
BIO 137 and BIO 139 can be no older than five years by the start of NSG 101. Here is a guide to help you determine the status of your BIO course:
BIO 137 and 139 course table

| NSG 101 Start | Last Completion Date BIO 137 and 139 are acceptable. |
| --- | --- |
| Fall 2021 | Fall 2016 |
| Spring 2022 | Spring 2017 |
| Fall 2022 | Fall 2017 |
| Spring 2023 | Spring 2018 |
No, applicants are not penalized for renewing BIO 137 after they have already passed it. Likewise, if a student is retaking BIO 137 for a better grade even though they have already earned at least a C in a previous attempt, the higher of the two grades will be taken and no points will be docked.
Points are only deducted if the student had an unsuccessful attempt in BIO 137 and are retaking it for application eligibility.
Background Checks and Drug Screens
Yes. Instructions are given to students accepted into the program.
No. Only students that are accepted into the Nursing Program are required to have this done. Specific instructions are provided to the students once they are accepted.
It could. Students are held to the same standards to which our clinical facilities hold their employees. Typically, the type of charges that prevent student enrollment into the program are anything to do with theft, drugs, violence, and recent DUIs. All adverse results are reviewed confidentially on an individual basis.
No, a fresh background check and drug screen is done specifically for the Nursing Program. Results from a previous test or organization are not usable for our Nursing Program.
Yes, students are responsible for paying for the background check and drug screen. The cost is $61.20. *Subject to change
NSG Schedule for those accepted
This schedule is subject to change, but here is what is currently being planned for: (These are attentive dates)
Tentative Scheduled Dates

| Component | Days | Times | Dates |
| --- | --- | --- | --- |
| Mandatory Orientation | TBD | TBD | TBD |
| Lecture | Mondays & Wednesdays | 9:30 a.m. – 12 p.m. | Fall 2021 |
| Lab | Tuesdays & Thursdays | 9 a.m. - 3 p.m. | Fall 2021 |
| Clinical | Fridays | 7 a.m. - 3:30 p.m. | Fall 2021 |
No, the core nursing (NSG) courses have a set schedule. Sometimes there are lab and clinical time groups that the students may be able to choose from. However, those options are presented to accepted students when applicable.