ADM Cares Supports Food Pantry and Launches 3 New Scholarships
Published on Oct 20, 2023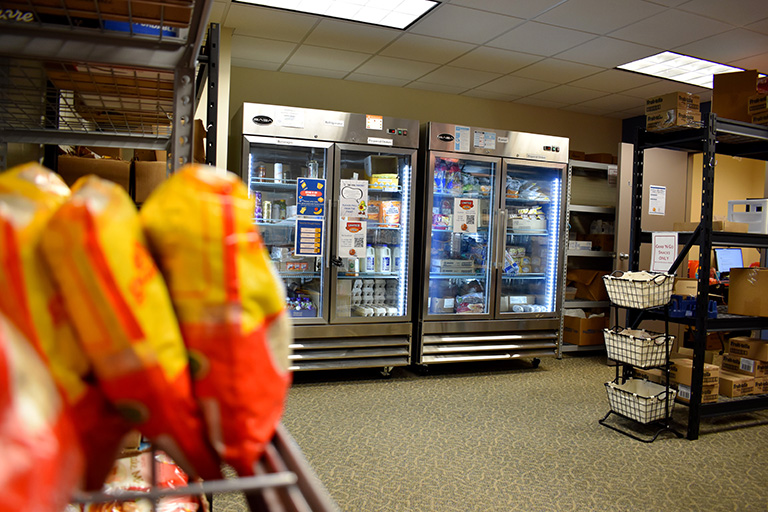 Gateway Community & Technical College is the recipient of a grant from ADM Cares in support of the college's Food for Thought Pantry. The prized agricultural organization also established three new academic scholarships at the college:
ADM Nourishing Innovation Scholarship in Allied Health Sciences
ADM Nourishing Innovation Scholarship in Applied Technology & Engineering
ADM Nourishing Innovation Scholarship in Information Technology
As one of the world's largest nutrition companies, ADM is a leader in both human and animal nutrition, unlocking the power of nature and transforming crops into ingredients and solutions for foods, beverages, and supplements for people all around the world. ADM's breadth, depth, insights, facilities, and logistical expertise provides unparalleled capabilities to meet needs for food, beverages, health, wellness, and more. From the seed of the idea to the outcome of the solution, ADM enriches the quality of life the world over.
This spring, Gateway's Food for Thought Pantry reported that the college recorded 2,026 total visits, served 2,453 individuals, and provided 10,198 pounds of food and goods.
Sarah Young, Gateway's Community Resource Coordinator said, "the food pantry is not just a physical resource for our students here at Gateway, it's a symbol of our community's commitment to supporting our students' academic success and their pursuit of a bright future. We are so grateful for the generous donations and support from organizations like ADM, it allows us to provide healthy and nutritious options for our students who may be struggling with food insecurity."
Life's unexpected expenses like higher-than-anticipated medical bills, increasing daycare costs, food insecurities, etc. frequently cause college students to miss out on significant coursework and lose valuable classroom time. Gateway's food pantry and scholarship opportunities like these ensure student perseverance, retention, and timely graduation.
"Sustaining and strengthening the communities where our colleagues work and live is an important aspect of the ADM Cares program. We are immensely proud to support Gateway Community & Technical College and the mission of the Food for Thought Pantry, and we are deeply thrilled to provide financial support for students as they embark on their academic journeys to complete their educational goals," said Jen Ciolino, Vice President of Global Technology, PMO, at ADM. "At ADM, we are dedicated to the mission of reaching zero hunger and encouraging others to get behind the cause, to create impactful, lasting, and measurable change. Partnerships such as this help drive that mission to help those who need it the most."
The contribution to Gateway Community & Technical College was provided through ADM Cares, ADM's corporate social investment program. ADM Cares helps sustain and strengthen communities where ADM colleagues work, live and operate by directing funding, volunteerism, and industry knowledge to initiatives and organizations that drive meaningful social, economic, and environmental progress worldwide with a focus on three main pillars that align with ADM's purpose:
Advancing health & well-being
Supporting sustainability
Increasing food security
Anyone interested in contributing to Gateway's Food for Thought Pantry, or establishing a scholarship, may contact the Development Department at (859) 442-4122 or by emailing Michael Orr. All support is tax deductible and 100% of contributions are used for the purpose for which they are given.